Exhibition pieces
Much of my more creative work is made for exhibition entry in response to a stated theme. There is a wide range of such exhibitions both national and international. I have entered the Legnica Silver Festival in Poland annually since 2014.
Silver Atom Brooch
This brooch was made for and entered in the Legnica Silver Festival exhibition, theme 'Silver'. It represents the silver atom which has 47 electrons in five orbits. It is in sterling silver with a nucleus of electroplated hematite an electrons of 9ct gold beads.
Ref BR-ATOM 75 x 55mm
Rosetta Space Mission Brooch
This brooch commemorates the 2004 Rosetta space mission made and entered in the ACJ (Association for Contemporary Jewellery) exhibition theme 'Icons'. It shows the spacecraft in silver with solar panels of 9ct gold floating above a disc of purple agate representing deep space.
Ref BR-RSM 60mm dia.
Hidden Snake Ring
This large silver ring has a flat-bottomed glass crystal stone. Inside and viewed through the stone is a coiled snake whose tail sticks out through a hole in the stone. It was made for and entered in the Legnica Silver festival themed 'Illusion'.
R-HSNK.
Hidden Snake Ring - Detail
The Louse Brooch
This large brooch has a concave silver mirror as its centre so that when you view the piece you see your reflection distorted and upside down. there is an insect on the edge of the frame which is engraved with the words:- ' the gift to give us is to see ourselves as others see us' It is a quote from a Robert Burns poem 'the Louse' where a smartly dressed woman is unaware of a louse on her hat.
It was made for and entered into the Legnica Silver Festival themed 'Illusion'.
Ref BR-LOUSE
Conjuring Trick Pendant
this pendant was made for entered and accepted for the ACJ exhibition themed 'Slight of Hand'. It is worn initially as shown here with the top hat brim up with wand across the top. if commented on the wearer swivels the hat over to click into place brim down…….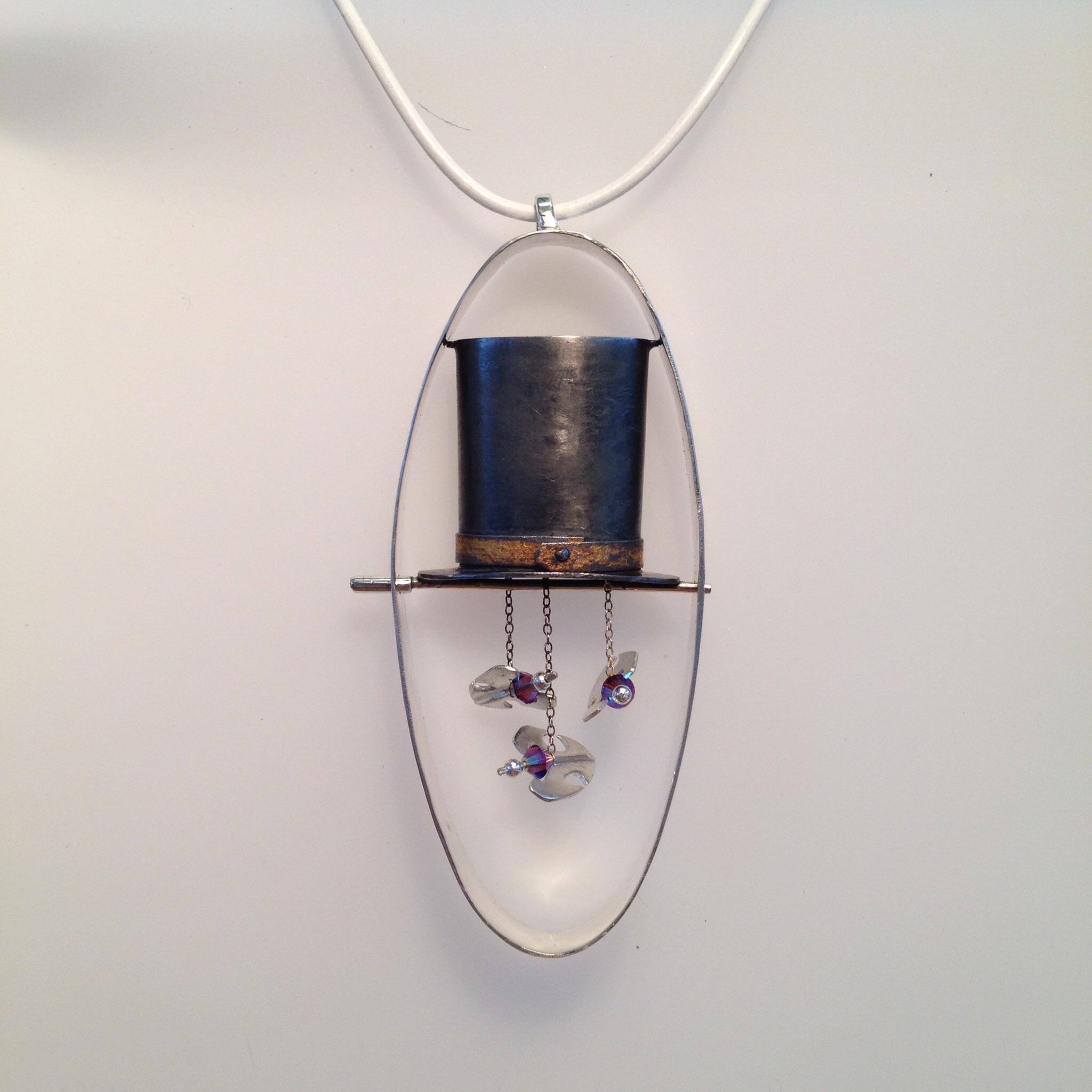 …… as the hat tips three bluebirds 'fly' out.
Ref P-TRICK 85 x 45mm
Brexit Pendant
This silver pendant is the EU flag with twelve 9ct gold stars one of which has torn out and is dropping through the frame. Around the outside of the frame are stamped the words. 'Don't blame me - I voted to remain'.
It was made for and entered in the Legnica Silver Festival theme 'Identity'. It was entered and accepted into the exhibition 'In my Opinion' which has toured to London, Beijing and several venues in Poland.
Wild Rose caught in barbed wire
This silver pendant on its cord of leather barbed wire was made for entered in the Legnica Silver Festival for the theme 'Boundaries' The flower has a citrine centre and one layer of petals plated in rose gold.
Ref P-ROSE 55mm dia.